by Seann Burgess
Photos provided by Seann Burgess
In our "have it now" world, is 30 years between drives too long, or just right?
In my case, it's just right. The very special "drive" in this case was my homebuilt Can-Am car that I ran in the 3rd gen center seat series in the mid '80's. I did only 6 races and parked the car. Looking back, the slow demise of yet another Can-Am series, coupled with the excitement around the new "Player's Challenge Series" (I did the first 3 years), meant the race car got pushed to the back of the shop. At the end of '88 after racing pretty steady for 10 years, I decided to take a break from driving. I already had the new stronger, wider tub drawn up as the major improvement to the car, as well as finishing the rushed conversion properly. To get the car on those grids back then was a very "hurry up job". Any racer who has ever had to do something in a rush (that's all racers), knows what I mean. I wasn't going to rush making the car the way I wanted it this time.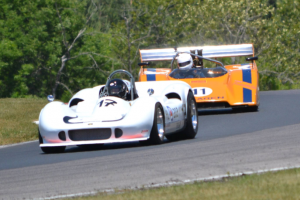 I didn't really do too much on the car for the next few years, I was enjoying the post racing feel with regards to how cheap everything seemed to be in comparison! We bought a used motorhome, went camping (often at race tracks), toured both coasts, built a hotrod, restored a couple of Atlantic cars and a bunch of 70's bikes, drove "The Ring", then the car started calling to me. I decided then that I wanted the finished product to be entirely by my own hand, a true homebuilt car. Originally the chassis was my 73-B March hiding under the M1B body. You can see the small 13" wheels in the '86 Turn 5 photo. I looked at several options for bodywork back then, not wanting a cycle fender conversion and always loving the curves of the early McLaren. After closing in the cockpit and engine cover for the center seat configuration, the lines now "flow" from every view, there's no bad angle. Into the 2000's, I went back to working on the car when it called to me, usually between other projects. I fabricated my own front suspension using turbo RX7 brakes and hubs and found some NOS undrilled Revolution 15" wheels. On the back I made centres for the readily available inner and outers. The car still uses March rear suspension with the FT200. The 15's fill those wheel wells just right. The engine is from a mid '80's Sebring/Daytona endurance team with all Mazda factory race stuff, very scarce…then and especially now. Dyno shows Weber (285hp) and Lucas injection (314). I'm using carb for simplicity. The car has a very simple '70's fabricated look to it, the only real experiment was with the always hot rotary exhaust…I ran it forward and back 180 degrees into the right sidepod. A 12v fan exchanges air in the enclosure, getting rid of the unwanted heat around the muffler/pipes. It's all wrapped and foiled, and although I've only done exhibition laps, it seems to work. I've seen too many heat related failures with these engines. Then there's the noise. I broke a muffler in qualifying at Summit Point in '86 and was deaf in my right ear for a week. I've always had a fascination with the Wankel engines…I have a '75 RE5, a '69 SnoFury, a '75 Sachs Dolmar chain saw (only saw made world wide with rotary engine), and have had several Mazdas, best one being a '93 RX7, a very nice car.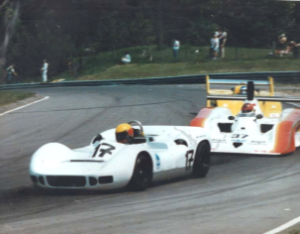 Quite a few of the projects I do are basket cases or forgotten/lost interest ones that somehow find me, I don't look for them. Once people know you do this kind of work, you don't need to shop. My Can-Am car was never one of those. I promised myself that I would restore it, and I would drive it. I also answered the question "When will it be ready?" about a million times with the same response….when it's ready. I wanted to enjoy doing it, rushing wasn't part of the plan. About 10 years ago, I designed & built my new shop, complete with a tool room that is a re-creation of one of the original Mosport pits. It has proved to be a very nice place to work. Fast forward to 2015, one winter to go before the 50th anniversary of the original Can-Am Series. Timing seemed perfect to have the car done by spring 2016, and go enjoy the fact that IT'S FINISHED!! Just around that time, a neighbour stopped by and asked if I had heard about that Italian racer coming to the Firestone dealer in Owen Sound TOMORROW for a meet and greet? Sure enough, Mario Andretti was coming to the dealer for one of his promos, and they were encouraging people to come for a car show, barbeque and bring things for him to sign. Well, I've got something for him to sign alright! I called the boss up there and asked him if he wanted me to bring the car up to be part of their show. He thought that would be great so the race car took centre stage under the big inflatable tire display. Mario showed up and after meeting the staff came out to chat with me and check out the car. We had a great talk, he's a VERY nice person.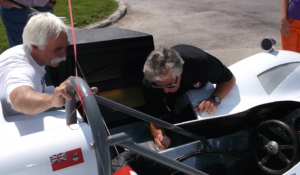 He signed a bunch of my stuff, Indy flag, some books and my 1986 Molson Indy event poster (his car on it) where he finished 3rd and I was 5th in our respective races. At the end of the day I asked him if he'd sign one more thing for me… the car. "Sure" he said, looking at me with Sharpie in hand, and I said "something complimentary in Italian would be great". So, I opened my hand crafted door, exposing my hand built tub side, and he laid it down… "Bella Macchina".
The 2016 roller coaster did not stop there. The folks from Cobble Beach Concours d'Elegance, approached me about bringing the car to their show in September, and I was all for that. We had been to the show that had run for the last 4 years, introducing us to a new level of automobile appreciation. I'd often thought Pebble Beach or a similar type show should be on the bucket list, but thanks to the folks at Cobble Beach, we've now got one an hour from our home!
We had enough time to plan a visit to the 50th anniversary at Elkhart (as VIP's, thanks Dan), to find 50 Can-Am cars! I took a nice enlarged photo from Mosport with me to get a few signatures from the "legends". I showed David Hobbs and Brian Redman the photo and told them I just drove the car for the first time in 30 years….they both said (and signed)…WOW! Bruce McLaren's sister & daughter both signed the photo with compliments as well.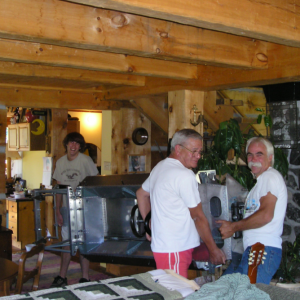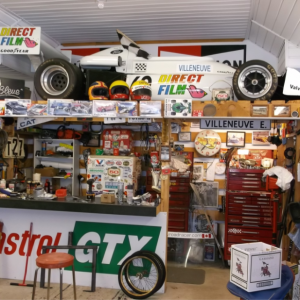 Cobble Beach was next, we got the car cleaned up and had a 5 am load-in time onto one of the most beautiful 18th hole fairways you'll find. They lined me up beside Ayrton Senna's 1987 Lotus F1 car, not bad company. Being in a Concours is nothing like being at a race track. Everything is spotlessly clean, smells good, tastes good and staff members are everywhere trying to make you happy. It was a great experience. When the judges came to my wife and I with a 2nd place ribbon in hand, we couldn't believe it. This meant that I had to drive the car across the podium for awards/photos. Of course this had to be done with my right shoe off because a hiking boot doesn't fit in the footbox if you're a size 11!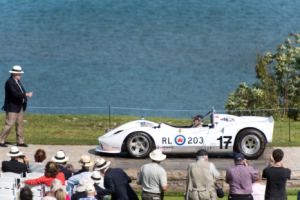 Just when I thought I could stop pinching myself, I've just seen that Cobble Beach is using my car to promote next year's show in some of their ads….the "rewards" as I see them, haven't stopped yet. Having just turned 60, I've spent half my life doing "something" with this car. Maybe that's enough, time will tell whether it should go to the next caretaker. I've also spent over half my life with my wife and crew chief, Carole, who has been part of this car story from the beginning. We even did Can-Am races with just the two of us, running around the country in our converted school bus with the car in the back. We laugh about it now, we had a lot of fun. I can't tell you how many times she's asked me over three decades, "What did you get done on the car today?" Always with a smile, she's the perfect team player. Those readers with supporting spouses will understand, it makes all the difference.
So, were the stars aligned for finishing this car and for all these events to have happened as soon as it was done? It's hard to argue against it.
https://varac.ca/wp-content/uploads/2017/06/Picture10.png
408
544
LDDALE
https://varac.ca/wp-content/uploads/2015/04/VARAC-Logo-241_156.jpg
LDDALE
2017-06-07 01:05:16
2017-06-07 01:05:16
30 Years Between Drives in a Glorious Can-Am Car