Joining Us From "Outside" Canada?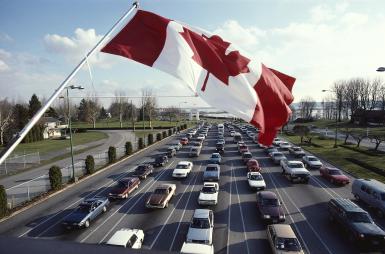 We are often asked if there are special forms or documents that need to be produced at the Canadian border in order to bring a race car into the country in order to attend an event.
The answer is "no".
If you are not leaving any goods in Canada (i.e. you are taking everything you bring in out again when you leave) then you are not subject to any import rules or requirements.  The Border Service may ask you for information about the event, or some form of proof the race car is yours (log books are great for this – although we usually just show them our name on the side of the car).  What they want is assurance that you are not importing anything into Canada.
We have taken an excerpt from the government's guidelines on importing vehicles – have a look below.  It clearly states that vehicles entering the country temporarily don't require any special documentation.
If you'd like, VARAC will be pleased to provide you with a letter confirming registration at one of our events – you shouldn't need it, but we'll be happy to give you one if it makes you more comfortable.
In our opinion, something of greater importance, is whether or not your home country (the US, or UK, Australia etc) will want anything from you before they'll let you bring your car home…
We know from our own experience returning to Canada after racing in the US the Canadian Custom Service is most interested in whatever "goods" I might be bringing back to Canada (so they can charge duties).   You may need to be able to prove you owned the car and other equipment before you left your host country.  Again, a log book is good proof, as is pointing at your name on the side of the car.  Make sure you check your own border and customs rules so that you don't run into difficulties on your way home.
Thank you for considering one of our events – we look forward to hosting you…
GeoStock/Photodisc/Getty Images from gocanada.about.com website
http://www.cbsa.gc.ca/publications/dm-md/d19/d19-12-1-eng.html
Importation of Vehicles
Memorandum D19-12-1
ISSN 2369-2391
Ottawa, January 11, 2016
This document is also available in PDF (319 Kb) [help with PDF files]
Relevant excerpt for visiting racers
Vehicles Entered Temporarily
The circumstances listed below allow for the temporary entry of a vehicle into Canada without having to comply with TC's import requirements at point of entry into Canada. These vehicles generally do not require a Vehicle Import Form – Form 1 unless a vehicle requires to be registered in the province or territory during its temporary entry. As such, the importer can submit a completed form and indicate that the vehicle is not required to enter the RIV Program and checking the "visitor or temporary resident" entry box on the Form 1.
Note: Motor vehicles which have been documented on a temporary admission permit, Form E99 – CBSA Report, or Form E29B – Temporary Admission Permit, will only be issued a Form 1 when the importer confirms or anticipates having to fulfill provincial/territorial registration obligations.
A temporarily imported vehicle cannot be sold, gifted or otherwise disposed of while in Canada, does not qualify for permanent importation and cannot remain in Canada longer than the time constraints listed on a persons' work permit, student visa, or other CBSA entry documents. Once these time limits have been exceeded, the vehicle no longer qualifies for temporary entry and must be exported. Should the temporary status of persons change while they are in Canada, the vehicle will have to be exported and subject to the regular importation requirements for that class of vehicle so as to determine if the vehicle is admissible as per the applicable sections of this memorandum.
Visitors, Tourists and Temporary Residents
The vehicles that are entered by visitors, for a period not exceeding 12 months; temporary residents such as students studying at an institution of learning, for the duration of their studies in Canada; or individuals with valid work permits/authorizations for employment for a period not exceeding 36 months.
Temporary residents and visa holders whose vehicle may require licensing while temporarily in Canada may submit a Vehicle Import Form – Form 1 at the border.