Article by Perry M. Mason
Photos by Perry M. Mason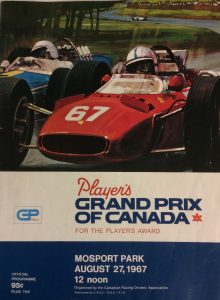 2017 marks a very special anniversary for Motorsport in Canada, 50 years since the inaugural Canadian Grand Prix for Formula 1. The race was held at Mosport in Bowmanville Ontario, now known as Canadian Tire Motorsport Park (CTMP).
Recalling this event fills me with awesome childhood memories and excitement. It was the first major international motorsport event I ever attended. A special thrill as well, since I got to watch my father, Al compete in the support races and win that weekend in his Corvette.
Seeing iconic drivers such as Jim Clark, Graham Hill, Jochen Rindt and Jack Brabham and getting their autographs are memorable moments I'll never forget. At the time I had no idea that the drivers I met and watched would be such iconic and influential figures in the sport.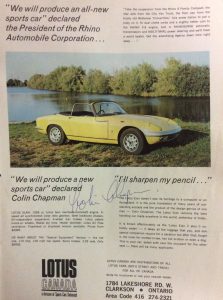 A sharp dressed dapper looking man I saw near driver Jim Clark intrigued me, he looked like "the boss" in that pit. I was told he was Colin Chapman and "better get him to sign your program" my Dad said.. so I did, right on the Lotus ad on the back..and yes he WAS Lotus, the owner and creator!

My Mother, a big race fan, was in on the action as well. With her Kodak Super 8 camera she captured a lot of the action in the sixties silent colour movie medium. I particularly like her shots of stars Graham Hill and Stirling Moss giving her "the look and a wink" as most ladies of the race paddock would get from these '60s era playboys.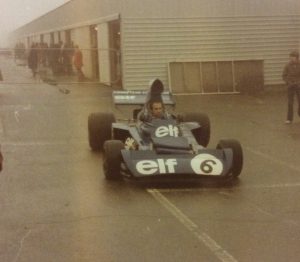 My most memorable F1 driver encounter was sharing the condiments at the snack bar with a very nice fellow, we were dressing up our fries and I asked him to pass the vinegar.."you like that?" he asked in a European sounding accent. I said "yes". I guess he was not thrilled about putting acetic acid on his, passed it to me, then he smiled and walked away eating his fries with ketchup.
Then a family friend Gary and formula Vee racer at the time, said "you do know that was Jochen Rindt?" Really??!! I scooted over before he was out of sight and he also signed my program without hesitation, and said thanks to me..he thanked ME..a kid.
Jochen, while leading the championship in 1970 sadly was killed in a brutal crash during practice for the Italian GP at Monza. He was the only posthumous F1 world champion. In the paddock, Dan Gurney, Bruce McLaren, Jackie Stewart all the greats were there. So were two Canadian drivers entered as well, Eppie Wietzes and Al Pease, both unfortunately did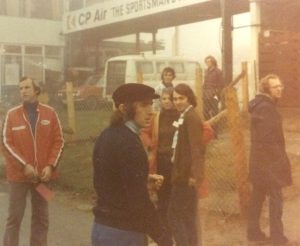 not finish. Australian driver Jack Brabham won the inaugural race on that rainy day in September.
In 1973, that same family friend I mentioned earlier Gary, took me to the Mosport F1 race that year. We went only on Sunday race day, and as I recall it was wet again. Hmm.. Mosport wet in September?
Anyway, I remem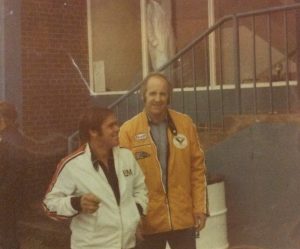 ber him pointing out all the quirky things going on at that time. Jackie Oliver spinning his wheels from exit of one to the top of two in the wet without lifting, "not a mature driver yet" he told me, my opinion he was just a nutty driver! Jackie Stewart craftily getting his way around in what was my favourite car that year the Tyrrell.
One of the drivers there intrigued me as well, he looked like Hollywood movie star, the women seemed to give him two or three double takes, he drove his Tyrrell like he stole it. Francois Cevert was Jackie's teammate at Tyrrell. He got into a mess in turn two and destroyed his car. I remember fans running away with the iconic Elf blue cowling and the mirrors on those two foot high supports. Wonder where those are today? Sadly Cevert lost his life at Watkins Glen two weeks later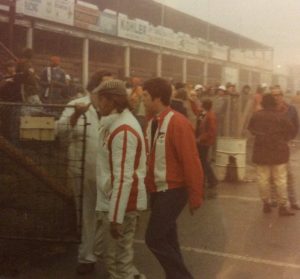 during qualifying. He was Stewart's last teammate as Stewart promptly retired from racing a race earlier than he'd planned due to this and still won the world championship that season. American Peter Revson won that '73 GP in a McLaren, Jackie finished fifth.
Mosport (CTMP) was host to this race for F1 from 1967 to 1977 with only the '68 and '70 seasons going to Le Circuit in Mont Tremblant, Quebec.
In 1978 the event permanently moved to Montreal. The first edition of the Canadian Grand Prix at the new Montreal location in 1978, was on a purpose built circuit created on the site of Expo '67 on Île Notre-Dame.
The race was won by our most legendary Canadian race driver Gilles Villeneuve driving for Ferrari. He was presented the winners trophy at this new venue by car enthusiast and Prime Minister of Canada, Pierre Trudeau.
I attended the 1981 edition of the Grand Prix in Montreal. Driving into the track that morning, I was passed by a crazy person in a Ferrari, deck-lid flapping loose, passing on the inside and against traffic all at breakneck speed. Who the hell is that? When stopped at the gate to show my pass, I could clearly see it was Gilles..somehow it that made that illegal display ok.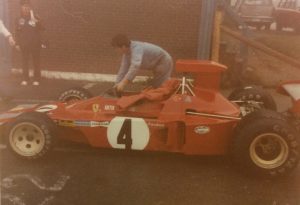 During the race, to see Villenueve fans in the stands go wild was something to behold. Once again it was another wet race and it wasn't even Mosport, I walked around with my umbrella and took it all in. Villenueve came into contact with someone or something, and the front wing was standing vertical in front of him, it never slowed him.
I caught that last lap on my camera that day, a cherished photo. The fast and fearless Villeneuve tragically lost his life qualifying for the 1982 Belgian Grand Prix.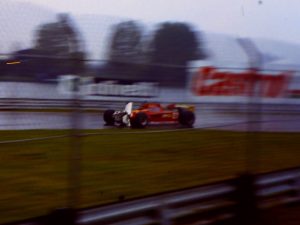 The organization for the circuit in Montreal honoured our Canadian race hero by renaming the facility "Circuit Gilles Villeneuve". Gilles son Jacques followed in his father's footsteps and made to Formula 1, winning the 1997 world Championship. He however never won in Canada at his namesake's track.
These are but a few of the memories I have from witnessing our Canadian GPs over the years. I can't wait to participate in VARAC's 50th Anniversary of the first F1 event at Mosport.
I don't have a Tyrrell or Gilles Ferrari but in my mind I'll feel like I'm in one!
https://varac.ca/wp-content/uploads/2017/05/Players-Grand-Prix.jpg
503
1545
LDDALE
https://varac.ca/wp-content/uploads/2015/04/VARAC-Logo-241_156.jpg
LDDALE
2017-05-29 18:58:04
2017-05-29 19:03:09
50 Years Ago There Was This Formula 1 Race…