2022 VARAC Vintage Grand Prix
June 16-19, 2022
Presented by VARAC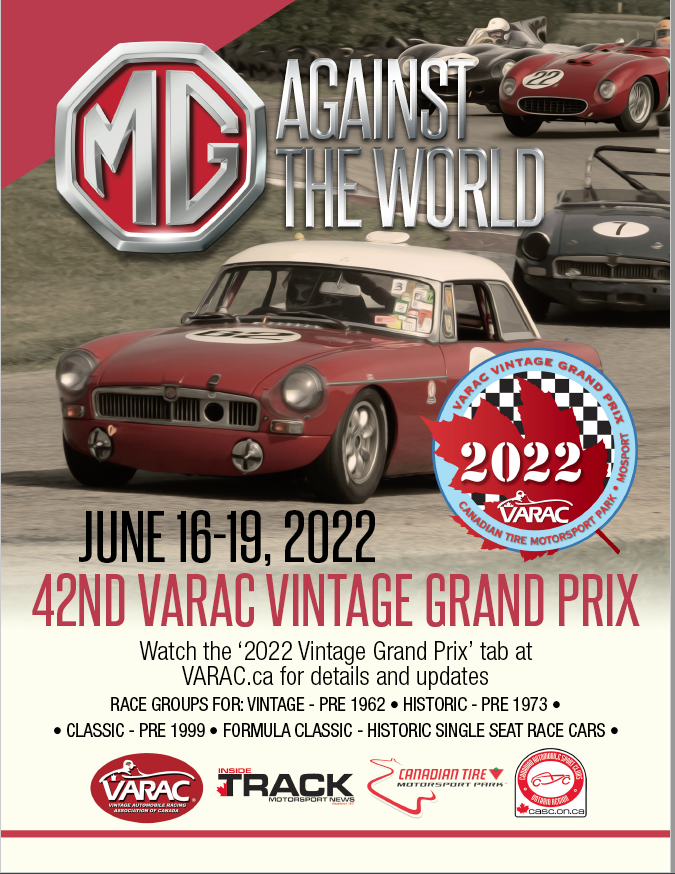 ---
We are pleased to report that the 2022 VARAC Vintage Grand Prix (VGP) will be held June 16 through 19, 2022, on the historic Mosport Grand Prix Track at Canadian Tire Motorsport Park, just outside of Bowmanville, Ontario.
Our feature marque will be MG! Our theme is "MGs vs The World". We are sending out a special invitation to all MG racers and welcome MG cars of all types – PreWar; T series; A's; B's; C's; GT's; V8's – bring them all!
We welcome MG Vintage Racers who have designated this event as a Focus Event. There will be a special "all-MG" Race as well as a Nation's Cup Challenge with Brits vs "the rest of the world".
Also the VVGP weekend will kick off a fantastic five-day gathering/meet for MG enthusiasts – MG 2022 – in Peterborough (June 19-23) ( https://mgtoronto.com/mg2022/)
We also welcome the Formula Ford Challenge Series (FFCS) as a run group at this event. FFCS is an Eastern US & Canadian series for Formula Fords running under vintage race rules.
Get your program here!
Click to download your own copy of the 2022 VVGP program.
Covid protocols
As we plan this event the restrictions and regulations that may face us due to the COVID-19 pandemic are not known. We are planning for travel restrictions to be minimum and people will be comfortable coming and participating in our event.
We will of course follow all protocols and restrictions in place at the time of the event and we will undertake to provide regular correspondence with all entrants and interested persons so you may make your own decision regarding your attendance and safety.
Register early and save
As in previous years, we encourage everyone to register before May 31, 2022, with an early bird discount if you register before Dec 31, 2021.  We do not charge anyone's credit cards before June 1, 2022, and if you cancel before your card has been charged there are no penalties or fees.
So, go ahead and register now safe in the knowledge that if you need to cancel there will be no penalties as long as you withdraw by May 31, 2022.
Test Day
Thursday, June 16 is the pre-event Test Day with run groups for open wheeled, closed wheeled and street cars.  If you have never run on the Mosport Grand Prix Track at Canadian Tire Motorsport Park you must run the Test Day, unless you request and receive a waiver from the VARAC Race Director.
Note that, as in the past, we are running Street Lapping sessions, so if your crew or friends want to experience the track , this is a great opportunity!
Run Groups
Along with our traditional Vintage-Historic (cars built before 1972), Classic (cars built up to 1999), and Formula Classic (open wheeled and Monoposto cars built up to 1999), in 2022 we'll also have the following guest grids: The Toyo Tires F1600 Championship, and the Formula Ford Challenge series.
We are limiting run groups for practice and qualifying sessions to 42 entries. This may require us to institute wait lists for some of our groups. Please register early so we can adjust the groups to allow as many entries as possible to run.
Weekend Schedule
Social Activities
On Friday evening enjoy the John Greenwood banquet at the CTMP conference centre, followed by live rock'n'roll music in the lower paddock by our very own eclectic house band, Fun Comes Fast.
Saturday evening brings the CPS Flooring paddock crawl movable feast sponsored by Publican Brewery, and Celtic Rock superstars Mudmen in concert, hosted by the Safety Team.
Important Documents
Download your own copy of key information for the 2022 VGP from the links below.
---
Event Waivers–note we are using an online SpeedWaiver process–please have the completed waiver on you phone or a hard copy available at registration. Note you can either complete event waiver or annual waiver.