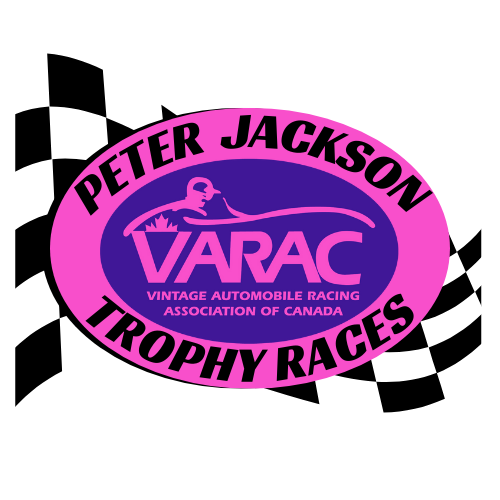 August 5, 2023, Shannonville Motorsport Park
---
---
1 DAY ONLY – Saturday, August 5, 2023 at Shannonville Motorsport Park
Run groups for Vintage Historic, Classic and Formula Classic
The day's activities will include two sessions in the morning for each run group, and two sessions in the afternoon.
Trophy presentations and a free concert by Fun Comes Fast at the end of the day.
---
Welcome to the '23 Peter Jackson Trophy Races
Please join us, VARAC, for a one-day vintage racing event – the Peter Jackson Trophy Races at Shannonville Motorsport Park. The event, named in honour of our dear friend and tireless volunteer, Peter Jackson, takes place on August 5, 2023.
It's an intense, fun, "on-track" packed day! You get Practice, Qualy and two races, all on the one day. You get basically the same run time here as a two-day regional for 40% of the cost!
All races will be run on the Pro track. Map in downloads below.
There will be three race run groups:
Vintage (pre 1962/ Historic 9pre 1972) (VH),
Classic (pre 1999 (CL) and
Formula Classic (open wheel/ Monoposto race cars built up to 1999).
Note-VARAC runs sub-groups in VH & CL on a time bracket basis ie VH1, VH2, ..CL1, CL2..etc. VARAC racers will know where to place themselves. If you are new to VARAC, please contact me Dave Good [email protected] and I will guide you on this.
Race entrants must meet one of the following licensing requirements:
hold a current VARAC VMC Licence,
be a VARAC member with a current CASC-OR Racing Licence,
hold a current FSAQ Licence with CVQ membership
hold a current VMC license or be members of a recognized Vintage Race Club.
CASC-OR or FSAQ licensed entrants (or other current race licensed drivers) will be accepted at the VARAC Race Director's discretion for this event. Contact Dave Good [email protected]
There will be a BBQ the night before for those planning to get there in time.
Saturday, post-racing, will be an award presentation, followed by our favourite VARAC house band, Fun Comes Fast.
A guaranteed, fun-filled, intense good time!
Note—there is no fuel available at SMP. Prepare to bring your own ( VARAC is trying to arrange fuel-to be advised )
As we get closer to the event we will post regulations, waivers, schedules, etc on VARAC.CA under Peter Jackson 2023.
Questions on the event? Contact Dave Good at [email protected]
---
Key Documents: