We can't thank you enough for coming to the 2016 VARAC Canadian Historic Grand Prix!
The feature for the 2016 CHGP was "Flat 6 vs V-8", Porsche versus American muscle so VARAC welcomed Trans-Am Champion Ludwig Heimrath as Grand Marshall for the 2016 Canadian Historic Grand Prix. In addition to the Canadians the CHGP was well supported by US based racing clubs such as Friends of Triumph and MG Vintage Racers. Three full days of exciting racing involving packed grids for all Vintage and Historic racing machines from Minis to Mustangs, Canada Class to Formula cars. There were nice big fields for six groups of cars including the F1600 and Formula Vee Spectacular , Monoposto, Small Bore Vintage & Historic Cars (under 1.3 litres), Big Bore Vintage & Historic Cars (over 1.3 litres), Wings & Slicks (purpose-built racing cars running on slick tires), and a big field of more than 60 of the Canadian "Classic Group 70-90 cars, (cars from 1973 to 1989 including Alfas, Corvettes, Porsches, Mustangs and many others.)
See this story and the accompanying pictures & highlights here: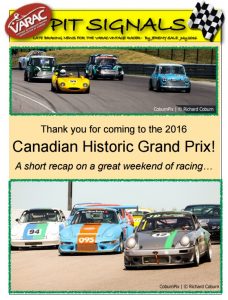 Friday opened with practice, qualifying and races for all grids and finished not with the previously traditional VARAC "Pot Luck Dinner" but with a new wrinkle, the Steam Whistle Brewing Paddock Tour. This independent Canadian beer company is justly proud of producing a Premium Pilsner and the tour involved three Whistle Stops. The concept is simply to move people around the paddock, to get them to mingle and meet, talk about their cars, and eat some dinner. Competitors, crew, and volunteers were all welcomed. The first Whistle Stop was hosted by club members Tom and Carol Burge, assisted by the MG and Triumph folks, serving chicken wings from Simply BBQ. Black Prince Winery offerings were also available. Whistle Stop Two was hosted by the good folks at Move Motorsports, assisted by the F1600 and Monoposto competitors, serving up Subway Sandwiches. Then it was on to Whistle Stop Three for dessert and coffee hosted by the VARAC board. There are wrinkles to be smoothed out to be sure, but it was a great move forward, well done to all concerned.
On Saturday racing continued with more great weather and some really full grids, breaking at lunch for Can-Am demonstration laps. "Mini Meet North", the largest assembly of Mini's in Canada, provided an avenue for owners of this popular marque to gather together and show off their cars all weekend, and they also had an opportunity to lap the track on Saturday.
Awarded on Sunday afternoon after the last session of the weekend, the Group 44 Inc. Award was presented to Jeff Govert (Spitfire #12) by last year's recipient, Henry Frye. The fastest large bore Triumph went to Henry Frye with his TR-250. Fastest small bore Triumph was Russ Moore in Spitfire #49. Fastest small bore MG was Nick Pratt in his very fast Midget. The fastest large bore MG was Joe Lightfoot, MGB.
The Victory Lane Magazine "Spirit of Vintage Racing" trophy was awarded to Dr. Lee Talbot. Many thanks to Doug Kurtin for again giving us really beautiful trophies to take home. Much appreciated, Doug!
It was a superb weekend all round, blessed by great weather and tons of track time. Many, many congrats to VARAC's CHGP Director Ted Michalos and his great team of volunteers! There were tons of people who pitched in, far too many to name, thank you all!
We tried a number of new things this year and we'd appreciate hearing back from you how we did – the good and the not so good – it is only with your feedback that we can make improvements for next year. Send your comments to [email protected] – thanks in advance for taking the time to let us know how things went.
https://varac.ca/wp-content/uploads/2016/07/VARAC-CHGP-2016.png
139
508
LDDALE
https://varac.ca/wp-content/uploads/2015/04/VARAC-Logo-241_156.jpg
LDDALE
2016-07-20 10:52:42
2016-09-12 19:01:35
CHGP Wraps Up for 2016