Some recollections by Gary Magwood with Jeremy Sale
While wasting time on the world wide web the other day I saw some chatter about the quirky "V.A.Y. Special", which had appeared on Bring A Trailer.com. Some VARAC members may remember Mike Rosen racing the car with VARAC at Mosport. I knew that it had gone on to the Excited States and I have seen various ads for it since. On asking Gary Magwood about it he said, "Actually, I know quite a lot about the VAY Special. I bought it in the early 60s. It was built by Vic Yachuk (hence V.A.Y.) to compete in the recently established Canada Class (an attempt to allow home builders to build and race cars utilizing production components)."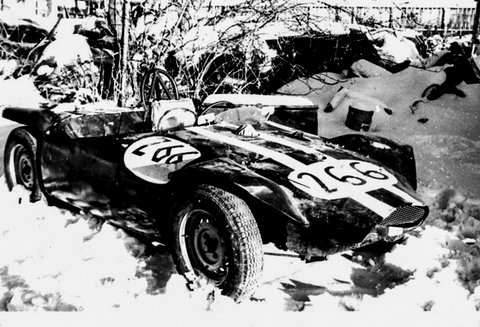 We asked Gary where he had acquired the car…
"I found the car behind an old gas station on Dundas West in the winter of 1963. A guy had bought it a year earlier but whacked it a couple of times and lost interest. The trailer that came with the car was just two lengths of highway guardrail welded to an axle/hitch assembly… very primitive but it worked really well!"
So now you had a car to restore and a race license to obtain…
"Yes, I rented a garage in behind a motorcycle gang's house in Etobicoke, I shared it with two Brits who were converting a DKW-­‐ powered Canada Class single seater into a sports racer. They also had a modified Austin A-­‐35 that we all used to get our CASC licenses! Unfortunately the damn thing was so slow going up the back straight at Mosport, we almost had to downshift going up the rise to corner 8! The only consolation was that Graham Hill had raced one in his early years!"
So what was the VAY like when you got it out on the track, Gary?
"When I first raced the VAY in 1964 it had the original bodywork and an Alta overhead converted Morris Minor engine. The engine preUy much self-­‐destructed every weekend, to the point where Bob Hanna's Autosport dealership ran out of Alta parts!"
"Anyway, realizing the VAY's power unit needed upgrading and that the bodywork was quite primitive, I undertook to rectify both problems. Getting married generated enough cash (a story unto itself!) to purchase a Sprite engine and gearbox. I even signed up for a welding course to learn how to braze steel tubing. I removed all the crude sheet metal fenders and other "lumpy" bits. The resulting, self-­‐ designed cleaner bodywork was aluminum, riveted to a new fabricated frame, the "core" centre section was left alone. (Above) The result was definitely lighter and more powerful."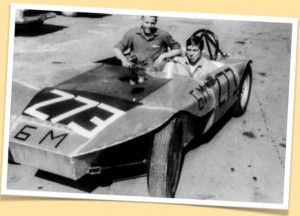 How long did you have the VAY, Gary?
"I raced the VAY for two years: the first year with the original Alta overhead conversion for the flat head Morris Minor engine and body configuration; the second year with a 998cc Sprite engine and tranny in my "flying shingle" design. It was a very stable and fun car to drive, but by the time I had the new engine and bodywork, Canada Class designers/builders had realized that single seaters could be built to the CC specs. That made all the two seaters obsolete in short order and needless to say, earning any points in CC races was now a pipe dream. "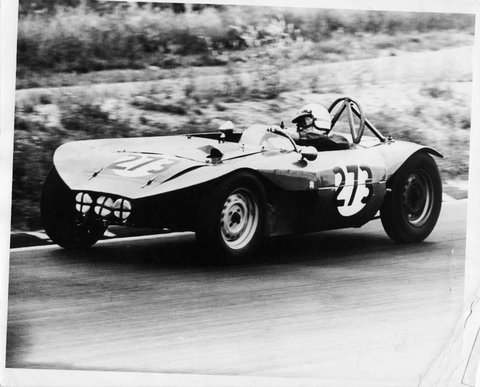 "However, I did wire it and mounted lights to enter the 6 hour Sundown GP at Mosport in 1965. (See photo above) After a few minor dramas the now re-named BS&T (Blood Sweat and Tears) Special finished the race. I later sold the car to Bill Bovenizer. That's how I recall it anyway…" Gary .
PS. Bill Bovenizer ran the car in 1967 and then sold it to acquire a Lotus 51.
PPS. Pit Signals contacted the new owner, Dave Gibson, a 944 Racer for the past seven years, competing with the 44 Cup series and winner of three championships with NASA Mid-­‐Atlantic in the German Touring Series. He plans on shaking the VAY down early spring at VIR or Summit Point and hopes to be ready for a Pittsburgh and Indy trip by June. He says "he is truly honoured to be the current caretaker of a piece of Canadian Motor sports history."
Main Photo Credit: Bob Harrington
https://varac.ca/wp-content/uploads/2016/02/20160127-VAY-Rosen-1w.jpg
291
480
LDDALE
https://varac.ca/wp-content/uploads/2015/04/VARAC-Logo-241_156.jpg
LDDALE
2016-02-22 11:12:38
2016-02-22 11:12:38
The V.A.Y Special Rides Again