Bob Long, A Canadian Racing Legend
by Jeremey Sale
Bob Long is a legend in Canadian racing circles having raced almost continuously since the 1950s! Now, in VARAC circles, a few of our guys started racing in the fifties but I would bet none of them has done lately what Bob has, which is to turn in a lap time of 1:25.60, he did this in 2016 at the age of 79! He has raced everything from a Mini, Camaro, Mustang, MGAs, Formula Fords, Xpits, (pronounced "speets" btw) plus a Mallock with Rotary Mazda engine.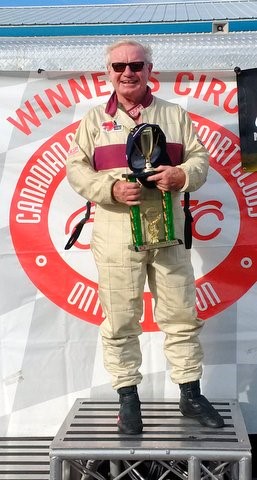 I checked an old (Dec, 1967) Track and Traffic of mine and found an article quoting Bob Long as saying F4 is "for someone who wants to race competitively without spending a fortune".  There was at the time a price limit on the cars set by the FIA, which would bring the cost after shipping, duty and taxes to about $2,300. (In case you are wondering the wonders of the Internet tell me that would be about $17,000 today.) In the article Bob said that he had always been concerned about the cost of racing discouraging many novices and had been looking for a class that wouldn't require a lot of money to be competitive. He went to Europe in January of 1967 and visited a number of manufacturers. He drove a Suzuki powered 250cc car around the Castle Combe race track and decided to import Johnny Walker Racing Ltd machines through his firm A and E Motors.
Chris Haley is a long time friend/crew/racer with Bob and he very kindly contributed the following notes.
"Bob started racing in 1958 at Green Acres with his partner Bill Steele, driving a Morris Minor with a 60hp Ford flathead V8 installed. There were lots of little issues with cooling and so on, and as they went along it worked out th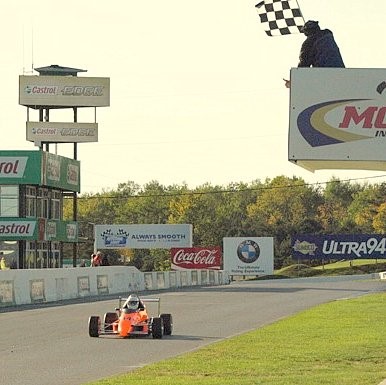 at Bill became the driver and Bob more the mechanic.  In the early sixties they designed and built a tiny sports racer that they called the "Curloo". It was powered by a 6 cylinder Mercury outboard motor and had "tiller" steering setup like a motorcycle.  This car would pull the front wheels off the ground in third gear! But it was only raced a couple of times by Bill.   In the mid sixties Bill decided to stop racing, so Bob didn't race for a year or two. Later on he happened to be reading a British automotive magazine in 1966 that had an ad in it for a small formula car made by Johnny Walker
.   He went over to look at them and test. He ended up ordering one for himself and one for his friend Jim Johnston, and so the first Formula Fours came to Canada. They started out with 250cc Suzuki Hustler motors, and as I remember, over the years moved to a Honda 305cc, a 650cc Triumph Bonneville (this is about the time I got involved in about 1970), 750cc Honda 4, 750cc Suzuki 2 stroke (water buffalo), 750 Kawasaki and different versions of the Suzuki 750cc GSXR.  The Three Quarter Litre Association (http://www.formulafour.com/history.htm) came to be around 1970 and since that time Bob has won the association championship at least 14 times, the CASC F4 championship at least 5 times, CASC Regional Overall Points Championship twice and the LASC (London Automobile Sport Club) speed championship countless times!
Currently, from my research, Bob is the only active driver in CASC to have raced continuously in seven decades, from the 1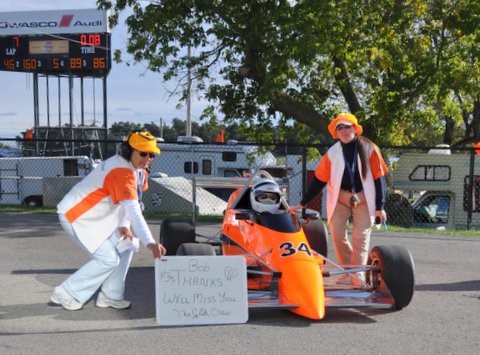 950's to the 2010's.   By this I mean he has raced at least once in every decade in this range.  I have known Bob since 1965 when I met him through my father and then worked for him as a shop cleanup boy in the late 60's, early 70's.  I raced for him in the early 70's when he had two F4 cars and I have crewed for him continuously since 1986, although he has had the odd year off when he may have sold a car and not had the next one ready. There were also a couple of forced retirements in there for medical issues. Oh yeah, by the way, he will be 80 on July 20, 2017 and unless he has a problem over the next couple of weeks when he goes for his medical, he plans to race again this year!"
Gary Allen of VARAC recently chatted with Bob and the audio can be found on the VARAC website here:
https://varac.ca/wp-content/uploads/2017/02/Bob-Long-1.jpg
166
480
LDDALE
https://varac.ca/wp-content/uploads/2015/04/VARAC-Logo-241_156.jpg
LDDALE
2017-02-23 22:35:22
2017-02-24 08:56:09
Bob Long, A Canadian Racing Legend