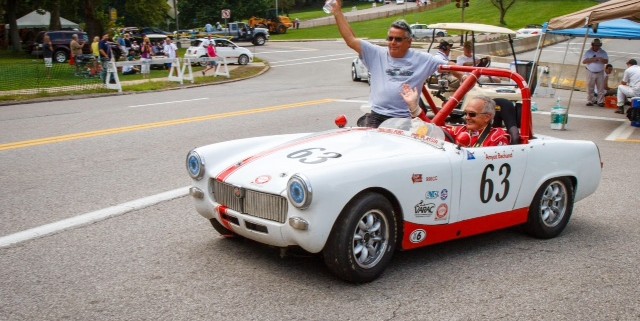 VARAC Member Amyot Bachand at PVGP Historics
Recently VARAC member Amyot Bachand raced to double weekend of the PVGP Historics at PittRace and Schenley Park. Here is his wonderful account of the experience…
2 fabulous race weekends. Yes it is 12 hour drive, but it was worth it.
Beaver run as it was formely named is now Pittsburg International Race Complex. The new owners have added a North track and joined the old and new together to make it 2.8 miles long: 18 corners, 2 long straightaways and a corkscrew, and there is a corner(15) that reminds me of corner 1 at Mosport which sets you up for a long straightaway.
I did not take me long to adapt to this track. I was told that Beaver run was meant for small bore like my Midget, but even with long track it is perfect. Yes more power would be fine, but where it lacks, work into turn makes it for the lack of speed. So there is a lot of space for mid and big bore. The owners are racers.
Facilities are great, personnel is totally devoted. Track time was very good. Since this was a first event with the full track, they had to forfeit the enduro. But it was very good track time. It is a fast track for a small bore yet technical. You don't have time to relax: just a few seconds in the long straight to look at your gauges and lot of space to be two in a turn if your fellow driver gives you some space.
I found it safe, fast and had a really good time. My best lap time was 2:21:273. The apexes are easy to find (they left the cones to help us out since on the new part they not done the rumbles yet. So if you concentrate on your lines, which, in most cases are traditional, you adapt quickly and have fun.
Schenley Park Historic Grand Prix
This was my second time at Schenley Park. First one in 2012.
Schenley Park is a place where you have to trust entirely the corner workers and where you have to adapt your racelines. There is no escape, no way out. You have to keep your car on the track and the pavement varies from one section to another.
This year I had a great time despite misfortunes. Again, Vintage racers are the best gang I ever saw and the mutual assistance is outstanding.
Last Sunday, I finished first in Group 2 race, starting second from last from the grid.
I had told the chief organiser that I would try to win this race Sunday morning, but he told me politely that he did not like those kinds of statements. I reassured him that I would race with safety first (MG motto) in mind than race with my head not my feet…I kept my word.
But I had 2 aces in my back pocket: 2 friend's mechanic who replaced my MG Midget head gasket that broke during the British cars race Saturday at lunch. They worked until 7pm. We had to skip dinner. The head gasket was a gift from Andrew Moore (#79 – group 3). So I missed qualifications Saturday PM. Then at Sunday practice I restudied the track… I had walked it with my friends on Friday pm. It is a must. Since I had race at Schenley in 2012, I remembered how important it is to know the tarmac we race on there.
The 2 aces: maybe 3. First, I know my car and trust it: we blend together. We have been together for 6 years. Second, excellent brakes, new this year, which allowed me to brake very late, then the third one, the most important, the corner workers. They are your eyes on this track since there so many blind turns. In 2012, I had noticed your critical importance especially in turns 10 to 13 and in the serpentine.
Track conditions obliged me to change racing lines. I decided to use unorthodox race lines in the serpentine to avoid bumps and choose also to skim past the wall from 11 to 13th. I also liked the hay bale chicane which, with a hard braking, a twist of the steering, you can get through in a jiffy to be able to get on the bridge at full throttle. Mind you, with a 998cc, even race prepared, you have limited speed. Working on your lines and braking in the right sequences is some of the secrets.
My tribute to guys and girls corner workers comes from the fact that I totally concentrated on my lines, keeping my car under control and working to  keep the rear tires on the pavement for the best traction possible considering that I do not have a locked differential.  I knew that if something came up as it did in other practices and races, they would signal it fast and safely. That is why, with the help of my fellow racers, who kindly let me go through when I was approaching fast, I was able to win this race. There is no way out, no escape on this park.  So to run as I did, I had to trust the corner workers entirely, race with my eyes and head and push. I remember that from 11 to 13th, I always had my eyes and mind ready and on the lookout. They are on top.
I did expect to run between 2:34 and 2:32, perhaps 2:31 but never expected to have a really hot lap as I did: 2:29:783. I was trying like hell to reach Alain Raymond in his Abarth: it took me a good 4 laps to get at him, traffic helping, and in corner 9, I just dove in, because we got slowed down by a neat and funny blue Dyna. Sadly Alain's Abarth let him down after. I could not have done this without the corner workers.
Both weekends are fantastic and there is lot of things to do in Pittsburg, showcars every night, activities. You don't get bored. Yes it is a bit costly, but worth it. Winning is the cherry on the cake, and it tastes so good. My second win in 6 years with my MG Midget. It does not come often, so I will savor it….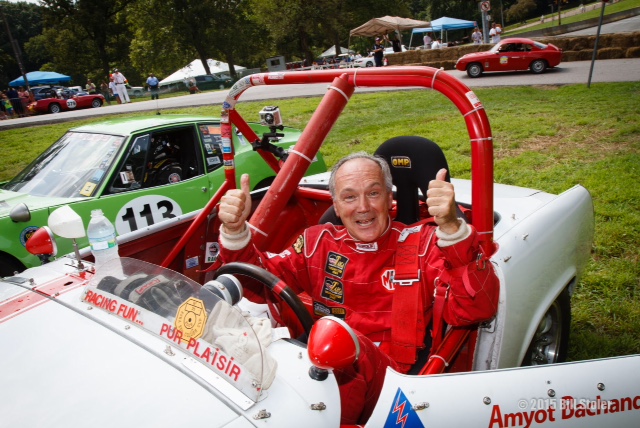 https://varac.ca/wp-content/uploads/2015/08/20150804-PVGP-Historics-at-PittRace.jpg
428
640
LDDALE
https://varac.ca/wp-content/uploads/2015/04/VARAC-Logo-241_156.jpg
LDDALE
2015-08-04 07:19:09
2015-08-04 07:24:15
VARAC Member Amyot Bachand at PVGP Historics