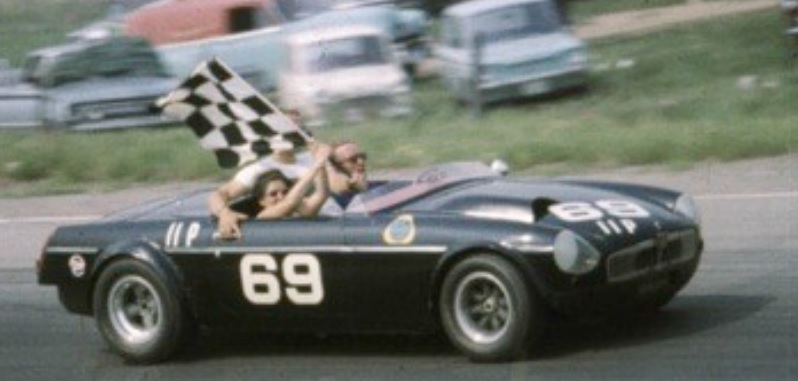 VARAC has added a new event-Checkered Flag Charity Cruise
June 9, 2011 – The Vintage Automobile Racing Association of Canada (VARAC) will hold its 33rd Annual Vintage Racing Festival at world-renowned Mosport International Raceway, June 17, 18, 19, 2011. This technically demanding, very fast 2.459 mile track is just one hour northeast of Toronto. This year's Vintage Festival features the "Cars of Italy" and "Those Amazing Porsches".
This summer VARAC joins with Mosport to celebrate the tracks 50th year of hosting world-class racing including Formula One, Indy cars, USAC, Can-Am and Trans-Am and more recently the North American Le Mans Series. In June 1961 the track opened the gates for its first major race, the Player's 200 for sports cars. The race attracted over 40,000 spectators and was won by Stirling Moss in his 2.5 litre Coventry Climax-powered Lotus 19. In the following years a small selection of the famous drivers who competed at Mosport would include; A.J. Foyt, Denny Hulme, Bruce McLaren, John Surtees, Mark Donohue, Jim Clark, Graham Hill, Jack Brabham, Bobby Unser, Roger Penske, Dan Gurney, Jackie Ickx, Jackie Stewart and many, many others, including of course the great Gilles Villeneuve, who made what would turn out to be his last appearance at the track, as he drove a Ferrari in the 1977 Labatt Grand Prix won by Jody Scheckter in the Canadian Wolf. Even the great World Champion Juan Manuel Fangio drove at Mosport, in a bizarre celebrity Mini race.
In addition to the "Cars of Italy" and "Those Amazing Porsches" there will be plenty of other classes and cars to see from the golden era of racing; Jaguars, Fiats, Triumphs, Daimlers, Alfas, Minis, Lotus, Austin-Healeys, Sadlers, Sunbeams and many, many more including formula cars and sports racing cars. The 2011 VARAC Vintage Racing Festival celebrates the glory days of grassroots sports car racing with three full days of spectacular on-track action. Hundreds of cars and drivers from all over Canada and the US will contend with this challenging race track as it rises and falls through the beautiful park setting, competing just for the thrill, the fun and bragging rights, in true amateur fashion.
The VARAC Festival is about more than racing. This year VARAC has added a new event on Friday evening – the "Checkered Flag Charity Cruise", which is open to anyone for a two dollar donation per car to the VARAC charity.  The cruise will be held on the Start/Finish Straight of the famed racing circuit and will give participants and spectators alike a glimpse of the excitement surrounding this race weekend.  The public is encouraged to come out for the cruise as well and join the party with admission being only the donation to the charity.
Other features of the weekend include largest Mini gathering, Mini Meet North as well as the "Field of Dreams" car show that welcomes sports cars and hot-rods and car clubs from far and wide with Sunday noon parade laps on-track. Entry to the car show and parade laps is free! That's a lot of action and a super value!
Enjoy the relaxed atmosphere of the VARAC Vintage Racing Festival where you are encouraged to take it all in. Walk through the paddock and get up close to the cars and drivers who will be happy to greet you. Youngsters will enjoy meeting the drivers and being photographed with the race cars. Enjoy free camping. Explore the booths of vendors of all types. Within the park you'll also find good food and beverage and modern comfort facilities.
Vintage racer, motorsport enthusiast or sports car owner, you won't want to miss this event! Be sure to put it on your calendar today, June 17, 18, 19, 2011. For more information see our Festival section.
Attached, please find a vintage racing photo.
For more info, contact Bob DeShane, Promotions Director, VARAC 705-878-5422 days or 705-878-3940 evenings – email: [email protected]
https://varac.ca/wp-content/uploads/2013/11/Pit-Signals-201311-feature.jpg
381
798
Varac.Comm
https://varac.ca/wp-content/uploads/2015/04/VARAC-Logo-241_156.jpg
Varac.Comm
2011-06-09 21:01:39
2015-04-02 09:24:39
VARAC has added a new event-Checkered Flag Charity Cruise